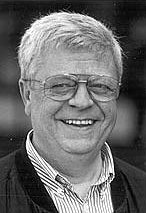 It goes without saying that now I am fully responsible for this, my own page and for the new English readers presented here.
I was born in Aachen, whose municipal boundaries coincide with the frontiers of Belgium and the Netherlands. On the right you can see the cathedral of Aachen, one of the most famous monuments of western architecture where thirty kings of the Holy Roman Empire of the German Nation were crowned. Besides this, it is the burial site of Charles the Great.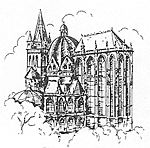 I have always lived in the district of Aachen. An early exchange and frequent trips to England during my studies, have gradually increased my preference for the English language. On the other hand they have aroused my particular interest in the literay works of English-speaking authors.
After studying Anglistics and Romance languages and literatures at Aachen, Bonn, Cologne, and as an 'auditeur libre' at the university of Liège, I started teaching at the Rhein-Maas-Gymnasium in Aachen.
Ten years later I changed to the Goethe-Gymnasium in Stolberg (Rhld.), the school I had attended as a grammar school student. Teaching English and French gave me the opportunity of combining my keen interest in literature with the education of young people. Today I live at Breinig, a rural suburb of Stolberg (Rhld.), which is known for its historical street of houses of local rubblestone.